GDP Industries – the Australian Disability Enterprise Has Successfully Launched its Polystyrene Recycling Project with GREENMAX Polystyrene Densifier
GDP Industries (Geelong Disabled People's Industries) is an ADE (Australian Disability Enterprise) offering long term supported employment to the disabled. It is a non-profit organization registered with the Australian Charities Commission and has been operating in Geelong for over 52 years. As a major recycler in the Geelong area, they are committed to the polystyrene recycling program and are looking to expand their services.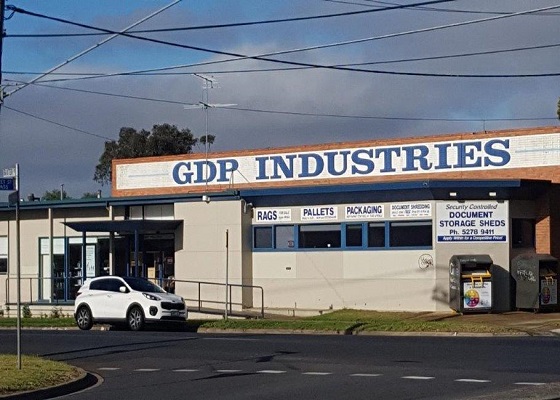 Geelong is a city in southwest of Melbourne, Australia. Lining its bay, the Waterfront esplanade has a 19th-century carousel, plus a curved art deco boardwalk and sea bath at Eastern Beach. It's a beautiful bay city with long history, which has been doing well in municipal waste management.
GDP has been recycling polystyrene since 2011, the company mainly takes the polystyrene waste of local residents from the transfer station of Geelong. Usually, it needs to be picked up 2-3 times a day, if it is Christmas, it may increase to 5-6 times a day. In addition, GDP also collects polystyrene waste from Geelong's school and enterprises. GDP basically assumes responsibility for handling all of polystyrene waste in Geelong.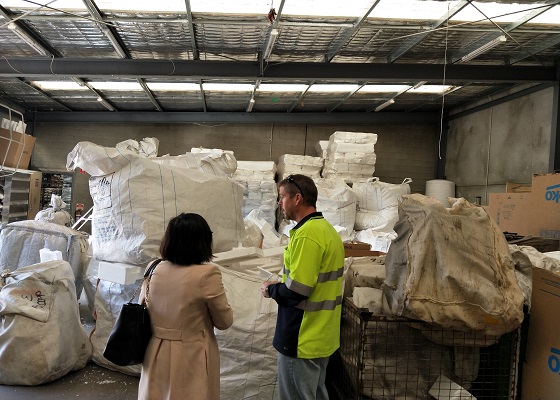 In the first 6-7 years, GDP used an old blue foam compactor. "The foam blocks processed by the machine was always melted, so we need to dismantle and repair the machine repeatedly. It's really a waste of time and labor. In addition, the scattered polystyrene scraps bring 5S problems." complained Garry.
For the entire polystyrene foam recycling project, the biggest problem is that the compressed material from the blue machine is too light, only 200-250kg on average, and a container can only hold 6 to 7 tons. Due to quality issues, this material cannot be sold at a good price, probably $300-400 per ton.
In 2018, with the support of the Geelong government, GDP decided to introduce the GREENMAX polystyrene densifier from INTCO recycling. Garry was very satisfied with this machine, it's more intelligent, and only one person can operate the machine. In order to save labor and let the disabled to feed the foam waste more conveniently, we have equipped the machine with a conveyor belt that can automatically feed polystyrene scraps.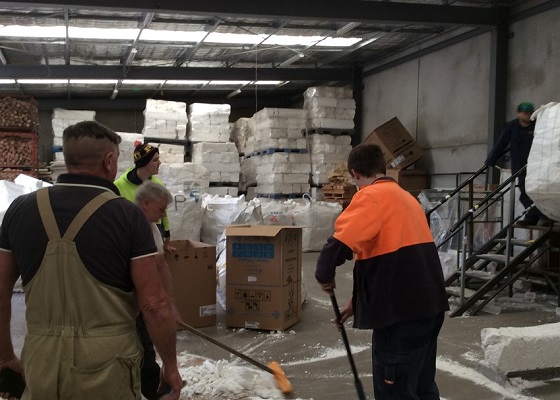 Garry said the GREENMAX machine has helped them save at least 50% of their labor. Now the density of hot melted foam ingots is 600-800kg/m3, which makes the volume about 3-4 times smaller than before, his saves a lot of loading costs. At past, only 6-7 tons needs to be manually installed a cabinet, if there are 18 tons, you need to install it 3 times. Now, just a container can reach 18 tons, and it can be loaded at one time. The price of polystyrene ingots has been also doubled from the original $300-400 per ton.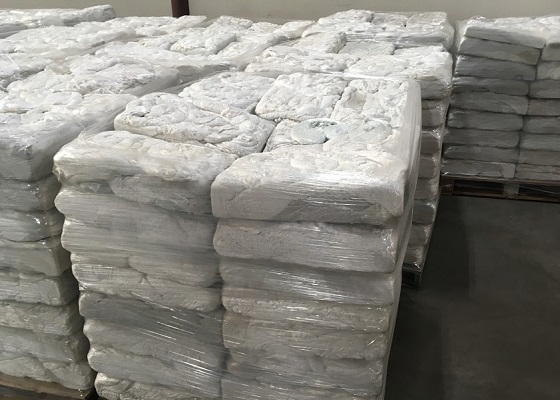 At present, our machines not only brings great profits to the polystyrene project of GDP, but also makes more local polystyrene waste effectively recycled. In the eyes of residents and the government, GDP's polystyrene recycling project is very successful.